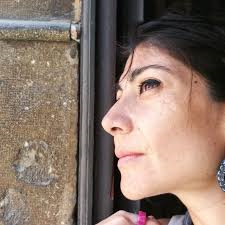 Elia Gasparolo nació en 1978 en Mendoza, Argentina.
Graduada en Traductorado de Inglés y asiste a talleres de pintura desde su adolescencia.
Vivió en Neuquén donde asistió al taller de pintura de Graciela Islas. Luego en Buenos Aires comienza a asistir al taller de Cecilia Ibarguren e inicia sus estudios en la Universidad de las Artes.
Ha trabajado como asistente en la gestión y producción de obra de Joaquín Fargas. Colaboró en la realización de dos robots, Glaciators, para la Primer Bienal de la Antártida, y en el diseño y realización de la obra El Libro Absoluto presentado en la Biblioteca Nacional Mariano Moreno (Buenos Aires – Argentina) en simultáneo con la Biblioteca de Alejandría (Egipto). Realizó junto a Fargas la obra Destellos de la Naturaleza en la Residencia Cima Residency que luego fue exhibida en el Centro Cultural San Martín en el marco de Noviembre Electrónico 2018. En 2019, Elia trabajó en el diseño y realización de Rabdomante, un robot en su expedición por el Desierto de Atacama exhibido en Maker Faire Rome y Robotika, un robot con Inteligencia Artificial exhibido en Ars Electronica (Linz – Austria) 2019. En el mismo año expuso sus dibujos y pinturas en Spectrum Miami durante Miami Art Week
En la actualidad es colaboradora en Gaspar Libedinsky Studio y asiste a diversos talleres de mosaiquismo, fotografía y carpintería.
Elia Gasparolo was born in 1978 in Mendoza, Argentina.
She got her degree in English Translation and has attended painting workshops since a teenager.
She lived in Neuquén where she attended the painting workshop of Graciela Islas. Then in Buenos Aires she attended to Cecilia Ibarguren's workshop and began her studies at the University of the Arts.
She has worked as an assistant in the management and production of artwork of the artist Joaquín Fargas. She collaborated in the realization of two robots, Glaciators, for the First Antarctic Biennale, and in the design and realization of the work The Absolute Book presented simoultaneously at Mariano Moreno National Library and Bibliotheca Alexandrina. Together with Fargas, they created Glimpse of Nature at Cima Residency, and it was exhibited at San Martín Cultural Center in the framework of Noviembre Electrónico 2018. In 2019, Elia worked in the design and realization of two works of Joaquín Fargas, Rabdomante, a robot for an expedition to Atacama Desert exhibited at Maker Faire Rome and Robotika, a robot with Artificial Intelligence exhibited at Ars Electronica 2019 in Linz-Austria. During December 2019, She exhibited her paintings and drawings at Spectrum Miami during Miami Art Week.
She is a collaborator in Gaspar Libedinsky Studio and attends workshops on mosaic artwork, photography, woodwork and carpentry.